I love Etsy. And out of all the great things to do on Etsy, I love treasuries the most!!!
Here's a really sweet one I just made!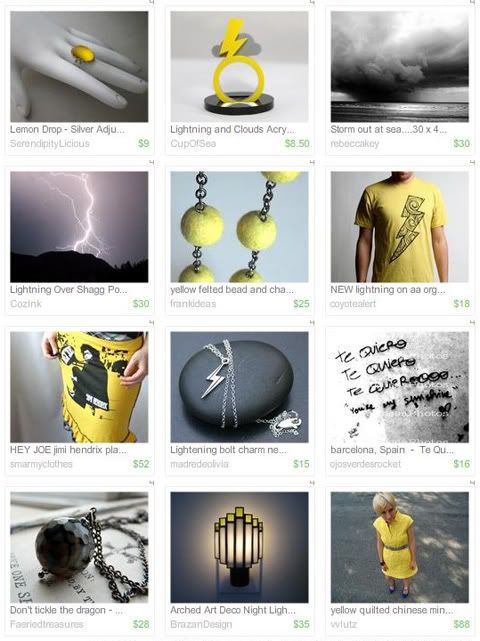 The Treasury can be a bit confusing for the uninitiated, and tends to raise two main questions:
1. What the hell is this thing and how does it work?
2. And why on earth does anyone care?
First, the Treasury is an ever-changing, member-curated shopping gallery of handpicked items. No I did not just copy and paste that off of Etsy. Crap. Okay, fine, I'll put it in quotes. The Treasury is an "ever-changing, member-curated shopping gallery of handpicked items."
Basically, it's a spot where you can assemble a collection of 12 of your favorite items into a pleasing, eye-catching design. Twelve of your favorite items by sellers other than yourself, that is. (Technically, you can include one of your own items these days, but personally, I still find it sooo tacky.) Here's the kicker: the opportunity to make one of these suckers only arises every couple of days or so. With scarcity, the appeal of a thing grows.
That's not enough of a point for you? Let's remember, promotion of others leads to promotion of yourself. You know that block of 12 items on the main page of etsy.com that's always different? The majority of those are treasuries that regular users created and the admins picked to feature on the front page! Not only does it earn you the gratitude and devotion of those 12 artists for life for promoting them to such dizzying heights, it puts your name on the top of the front page.
I'm kidding. Mostly. While seeing your items or your treasury on the front page IS super exciting, and it DOES often result in a few more sales than usual, the biggest reason I and most of the other treasuryholics out there do it is simply
for the sheer joy of finding and sharing amazing artwork.
I am not even being sarcastic about this.
Etsy can be a torture for someone like me, whose monthly fashion budget is about fifty cents. Making a treasury can be a way to show your appreciation for a really wonderful item even if you can't afford it. It shows you've got style, too, and that's how I really love to look at it. Each treasury I make is a little miniature work of art, like a very very classy collage.
If you have an Etsy account and have never made a treasury, I highly recommend trying it out. If you don't have an Etsy account, what is wrong with you?!?!